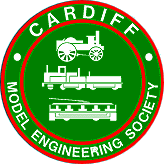 Cardiff Model Engineering Society
Fun for All the Family
Public Running Days 2013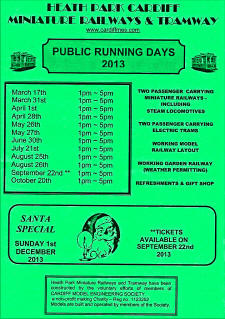 Click on images for full size photos
Well equipped miniature passenger carrying railway with two track ovals, a tram line and associated stations tunnel and bridges. Please look round this Web Site to see photos of the location. Well worth a visit.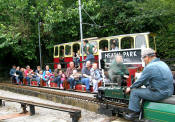 Come and enjoy the Railway and spend the afternoon relaxing in this fantastic parkland location.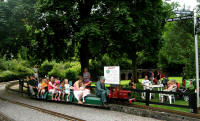 Toilets and Refreshments available.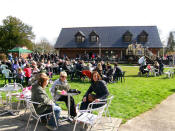 2013

MARCH
Sunday 17th

- 1pm to 5pm

MARCH
Sunday 31st - Easter - 1pm to 5pm
APRIL
Monday 1st - Easter - 1pm to 5pm
APRIL
Sunday 28th - 1pm to 5pm
MAY
Sunday 26th - 1pm to 5pm
MAY
Monday 27th - 1pm to 5pm
JUNE
Sunday 30th - 1pm to 5pm
JULY
Sunday 21st - 1pm to 5pm
AUGUST
Sunday 25th - Summer Bank Holiday - 1pm to 5pm
AUGUST
Monday 26th - Summer Bank Holiday - 1pm to 5pm
SEPTEMBER
Sunday 22nd - 1pm to 5pm (Santa Special Tickets available) ***
OCTOBER
Sunday 20th - 1pm to 5pm

DECEMBER

Sunday 1st - SANTA SPECIAL (BY TICKET ONLY) ***